Shopping Cart
Your Cart is Empty
There was an error with PayPal
Click here to try again
Thank you for your business!
You should be receiving an order confirmation from Paypal shortly.
Exit Shopping Cart
| | |
| --- | --- |
| Posted on 3 February, 2014 at 14:50 | |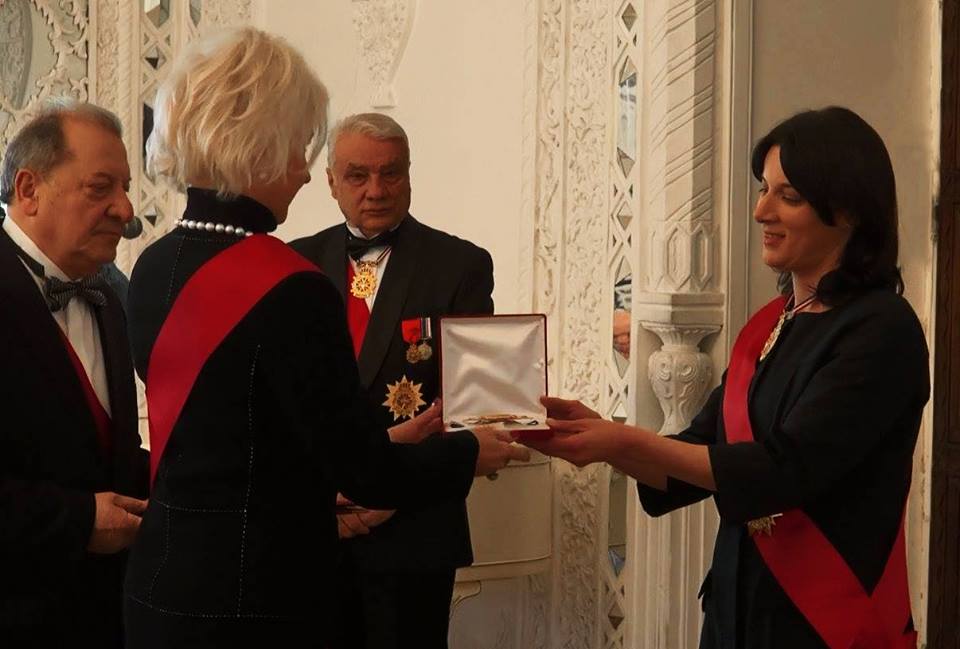 HRH PRINCESS ANNA of Georgia
Performing an Investiture Ceremony
February 2, 2014, at the historical palace of Vicegerent, Tbilisi, HRH Princess Anna the heir of the Head of the Royal House of Georgia (HRH Crown Prince Nugzar Bagrationi-Gruzinski), bestowed Kristiina Ojuland with the Grand Cross of the Royal Order of the Crown of the Georgian Kingdom. The ceremonial was entertained by Georgian traditional folk dances.
At the investiture ceremony, Kristina Ojuland the now new Mandilosani (Dame) of the Royal Order of Georgia was also appointed as Delegate in the Baltic countries thus to represent the Royal House of Georgia and its Chivalry Orders in the European countries. The ceremony was attended by several members of Georgian Parliament and Diplomatic Corps.
At the end of ceremony, Her Honor Kristiina Ojulan expressed her gratitude to the Royal House for the honor received and had an  interview for local news agency.
/* Style Definitions */ table.MsoNormalTable {mso-style-name:"Table Normal"; mso-tstyle-rowband-size:0; mso-tstyle-colband-size:0; mso-style-noshow:yes; mso-style-priority:99; mso-style-parent:""; mso-padding-alt:0cm 5.4pt 0cm 5.4pt; mso-para-margin-top:0cm; mso-para-margin-right:0cm; mso-para-margin-bottom:10.0pt; mso-para-margin-left:0cm; line-height:115%; mso-pagination:widow-orphan; font-size:11.0pt; font-family:"Calibri","sans-serif"; mso-ascii-font-family:Calibri; mso-ascii-theme-font:minor-latin; mso-hansi-font-family:Calibri; mso-hansi-theme-font:minor-latin; mso-bidi-font-family:"Times New Roman"; mso-bidi-theme-font:minor-bidi; mso-fareast-language:EN-US;}
Categories: None
/