Shopping Basket
Your Basket is Empty
There was an error with PayPal
Click here to try again
Thank you for your business!
You should receive an order confirmation from Paypal shortly.
Exit Shopping Basket
| | |
| --- | --- |
| Posted on 24 May, 2014 at 9:30 | |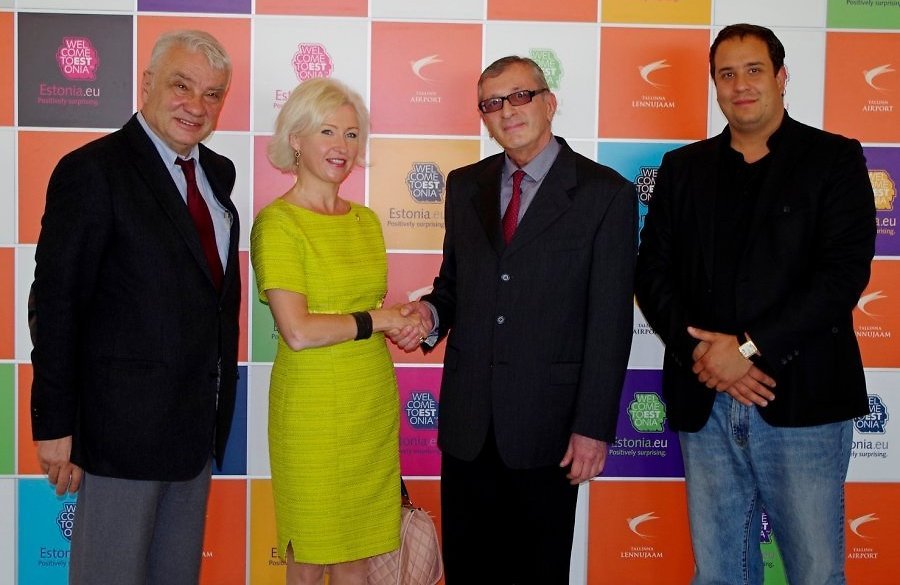 Estonia is visited by HRH Crown Prince Nugzar of Georgia
Direct descendant in the male line of the last Georgian king George XII HRH Crown Prince Nugzar Bagrationi –Gruzinski of Georgia arrived in Estonia on May 19 on a two-day visit.
His Serene Highness Prince Nugzar Petrovich arrived in Estonia at the invitation of a single candidate in elections to the European Parliament, Kristiina Ojuland.
The Georgian`s guest of honor had an official dinner in the restaurant Dominic. After dinner, he went on a tour of the Old Town together with historian Yuri Kuuskemaa. The Crown Prince addressed with a welcoming speech to the representatives of national minorities in Palmse Manor,
On May 20, the Crown Prince met with members of the Riigikogu* - Parliament of Estonia. The Crown Prince was scheduled to meet with Mart Laar**, Eerik-Niiles Kross*** and Kristiina Ojuland and after he met with Tunne Kelam****. In the afternoon HRH prince met with the representatives of the company Liviko AS.
*Riigikogu Parliament
The Riigikogu (from riigi-, of the state, and kogu, assembly) is the unicameral parliament of Estonia. All important state-related questions pass through the Riigikogu. In addition to approving legislation, the Riigikogu appoints high officials, including the Prime Minister and Chief Justice of the Supreme Court, and elects (either alone or, if necessary, together with representatives of local government within a broader electoral college) the President. The Riigikogu also ratifies significant foreign treaties that impose military and proprietary obligations, bring about changes in law, etc.; approves the budget presented by the government as law and monitors the executive power.
** Mart Laar
Mart Laar (born April 22, 1960) is an Estonian statesman and historian. He served as the Prime Minister of Estonia from 1992 to 1994 and from 1999 to 2002. Laar is credited with having helped bring about Estonia's rapid economic development during the 1990s.
*** Eerik-Niiles Kross
Eerik-Niiles Kross (born 8 September 1967, in Tallinn) is an Estonian diplomat, intelligence chief, entrepreneur and politician. During the 1980s, Kross was a leading figure in the anti-Soviet resistance movement in Soviet Estonia. After reindependence, in 1991, he joined Estonia's Foreign Ministry. He served as the head of intelligence from 1995 to 2000; and as national security advisor to former President Lennart Meri in 2000-2001.
**** Tunne-Väldo Kelam
Tunne-Väldo Kelam MEP (born Tunne-Väldo Sink 10 July 1936 in Taheva, Estonia) is an Estonian politician and Member of the European Parliament for the IRL (Pro Patria and Res Publica Union), part of the European People's Party.
Categories: None
/